Working at All Chemical: A Day in the Life
Lots of companies say it's great to work for them. They talk a big game about how they treat their workers well and provide good benefits.
It's easy to make claims, but the real test is on the ground. How well do these companies live out their values? What do their employees have to say about what it's like to work for them?
At All Chemical, we pride ourselves on how well we treat our people: both our customers and our team. And that isn't something we claim about ourselves because it sounds good. We say it because it's true—and we have the data to back it up. We hear the satisfied customer and staff testimonials; and in the chemical transport trucking industry that's plagued by driver retention problems, our impressively low turnover rate speaks for itself.
But we don't think you should have to take our word for it. So, we thought we'd pull back the curtain again, and let you meet a couple of our employees.
That way, you can hear it straight from them: what do they love about working for All Chemical?
Meet Geoff McDade, Truck Driver
Geoff's worked in trucking for fifty years. He's been around the block more than once, so he knows what's out there.
"In all my years in the workforce," he told us, "All Chemical is by far the best place I've ever worked. I left for a bit in the 90s, and I tell Anthony all the time—that was the biggest regret of my life!
"All these years, I've seen how they work. They've put great systems and processes in place, and the communication from leadership is clear. They're responsive, too. I remember once I had an issue with a Sunday drop-off, and Matt answered his phone right away and got me the quick, reliable answer I needed.
"It's a family business, and everyone in the family is a hard and talented worker, bringing something different to the table. They actually treat you like part of their family, too: birthday and work anniversary cards, small meaningful touches like that. The team treats everyone as equals, and they share this honest, hard-working ethic that's great to be around.
"They train right, too. They're always telling their drivers to take their time, check their equipment, and make sure everything's in order, so it's done right the first time.
"Plus, they go out of their way to make life easier on us: the best tech, the best trucks, the best equipment. Steve just got me the 2023 Kenworth sleeper, and let me tell you, I'm thrilled. All Chemical's fleet has all the bells and whistles: extra chrome, extra lights. Looks amazing driving down the road.
"Honestly, no company I've ever worked for compares!"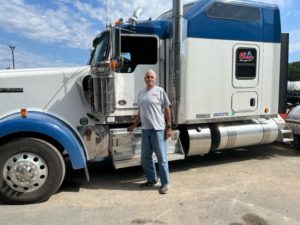 Meet Bruce O'Hora, Wash Rack Staff
Bruce has worked on our wash rack for over 3 years. When we asked him what he loved about working for All Chemical, he had this to say:
"The way I see it, this company is doing business the way it should be done, and that's great to be a part of. Safety's a top priority, even over productivity. The company values hard work and integrity, and they really walk the walk as far as that's concerned.
"They make it clear how much they value our health and wellbeing as employees. The pay is well above average, great benefits, and there's a high quality of life on the job. They provide us with the best equipment and technology. They even make little gestures of appreciation, like weekly lunches.
"Company communication is top-notch. Management has an open-door policy: come in whenever and talk directly to them. Trainings are interactive and involved, so we're a part of the process, and they really prioritize ensuring that everyone understands. It's the same with workplace changes, too: anytime something's new or changing, they include all employees in the plans so everyone knows what to expect and how we'll be affected.
"There are so many signs that the company is growing, like the new construction at the Lakewood facility—so I'm definitely excited to see what the future holds!"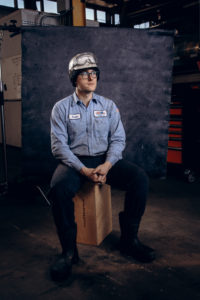 And there you have it. At All Chemical, we have an excellent company culture not because we say it, but because we do it. We appreciate our employees, and we make sure they know it. Because our team feels appreciated, they go the extra mile—for you.
Reach out today to discuss your needs and find out how you can benefit from our thriving company culture.