The Benefits of Green Initiatives at All Chemical
Four Ways We Are Incorporating Innovative Solutions Into Our Operations
By Anthony Coruccini, Chief Operating Officer
All Chemical is striving to make tangible, beneficial changes at our locations to create a more sustainable future for all of us.
We maintain top of the line equipment, find innovative solutions to reuse resources, and strive to be forward thinking by harnessing renewable energy options.
It's the kind of future where everybody wins.
Why Green Initiatives?
Over the past 45 years, we've seen how leading with our values means more benefits for all: for our team, for our customers, and for the business as a whole.
So, when we began focusing on environmentally conscious business strategies, we didn't adopt them to be trendy or to avoid getting in trouble. It's just good business sense. Success in business is all about the long game—not short-term profit and ultimate loss.
With green initiatives, we see a whole host of benefits: better, more sustainable profits; higher safety standards; excellent regulatory compliance records; innovative new technologies; and exponential customer satisfaction.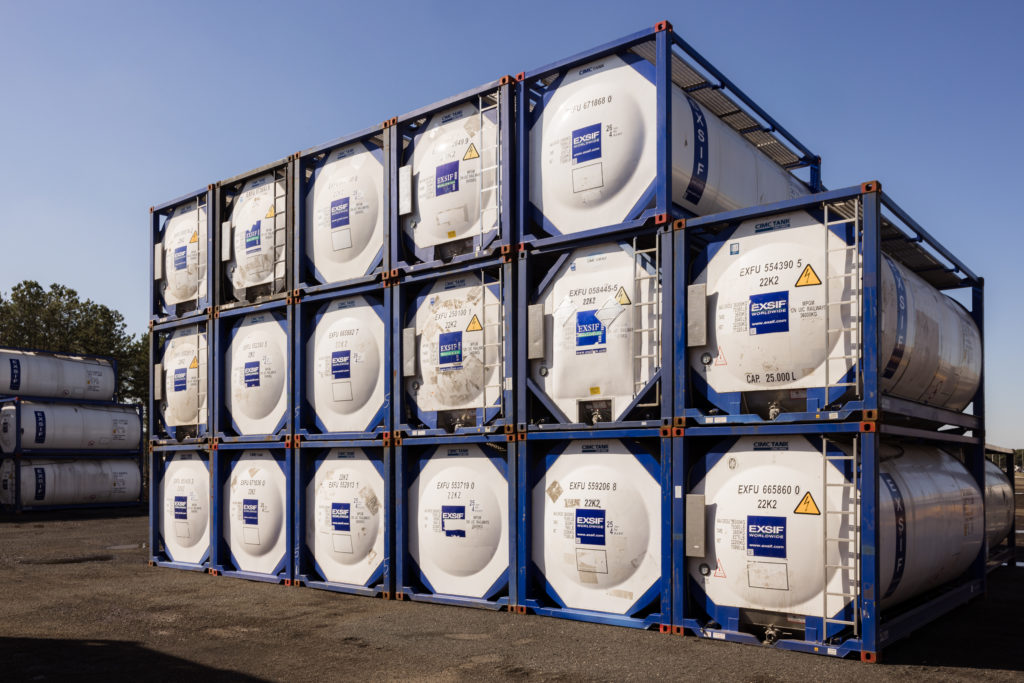 All Chemical's Green Initiatives
Waste oil burning. Typical oil changes result in "waste oil," which is incinerated, creating harmful emissions. At All Chemical, we have adopted a green initiative to use this oil without creating emissions.
All our waste oil is strategically stored in a cargo tank for future use, allowing us to draw from it to refill our shop's tank, as needed.
To burn waste oil, we obtained a state permit to purchase a specialized heater that comes with emissions protections, ensuring there is no black plume of smoke discharged during incineration.
Solar panels. We are excited about our innovative solar farm that is taking shape at our Lakewood headquarters. Construction will be finished at the end of the summer.
Situated strategically on the left of a storm water retention basin stands a unique structure: a concrete pillar supporting a slanted roof, perched atop 40-foot shipping containers.
This structure serves a dual purpose. It stores materials not immediately in use and the slanted roof hosts our solar panels.
Fuel economy. We own and operate a newer fleet that adheres to stringent emissions standards, surpassing commonly mandated regulations.
All our company trucks incorporate the CARB DEF method, a progressive technology that recycles emissions from diesel burn to power the engine, capturing the exhaust with a fluid coupled with additional fuel that is then rerun through the engine.
This practice not only abides by the highest standard of emissions control but also enhances the efficiency of our operations. Additionally, all new trucks built to our specifications are automatics, meaning cost savings on fuel for us and you.
LED office lights. All Chemical's commitment to green initiatives extends into our office spaces, too.
Our LED lights reduce our carbon footprint while also significantly cutting down our energy costs. Moreover, they last longer, reducing waste and sparing our bottom line—which enables us to spare yours.
Even small-scale green initiatives like these are both beneficial to the environment and advantageous to our customers, proving that sustainability and practicality can indeed go hand in hand.
Join Us in Green Initiative Benefits
We are working toward a more sustainable future, one where we are environmentally responsible and  also operationally efficient. All Chem is a company  that's got your back—as well as the planet's.